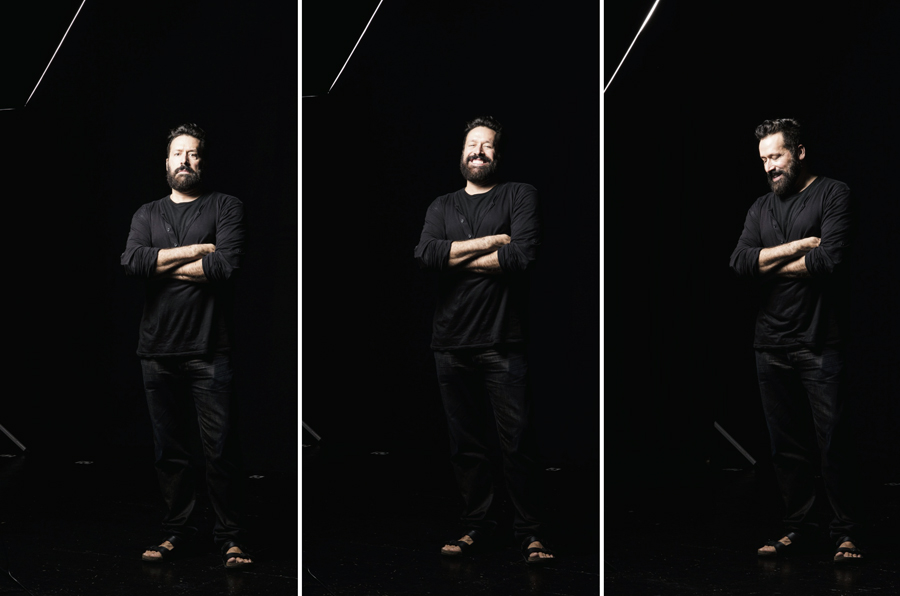 As we kick off another busy year at The Powder Group we wanted to sit down with TPG and On Makeup Magazine founder, Michael DeVellis to gain some insight on the state of the industry, what artists need to focus on today to make their career the best it can be, and what makes The Powder Group stand out in an increasingly crowded industry.
With more than 20 years of experience working with hundreds of top artist, product lines, artist agencies, productions and publications, Michael has a unique perspective on the career of professional makeup artistry. We hope you'll find some inspiration in his message for our community in the interview below, along with what to expect from The Powder Group in 2017.  We hope to not only continue to support our TPG Pro members, but also bring together a community of future TPG Pros to come.
Why is it important for artists at all levels in their career to continue to invest in their education and growth?
Especially today, when the career of the makeup artist is gaining in popularity due to exposure in the media, television programming and social media, it's important to do everything you can to be a stronger artist and craftsman, better business person and great creative mind. Gathering with others for education and other events is a key part of that elevation of ones career as an artist. It's a huge part of what we do at The Powder Group.
The effect of social media on our industry is inarguable. How do you think our industry has been effected by it and what should we look out for this year?
I think that our industry has been effected in countless ways by social media. But the key thing is to remember that while social media is a great support to your business, it does not replace the basics of marketing, branding and business development. You need to have a solid core business first, and then social media helps you to move it forward and elevate it – if you are handling the medium properly. Which I think is a big topic for another discussion.
What advice would you offer to up and coming artists for 2017?
It's only going to get more competitive, and the challenges of maintaining a long-term, successful career are not going to go away. Be prepared to work as hard as ever and to push yourself deeper into your own personal and professional development, stay unique. There are so many copy cat artists out there now. Be sure you find your voice and stay true to it. It will separate you from the rest of the artists out there. Stay close to your community, be there for each other. Surround yourself with support. And keep looking up and moving forward.
What makes The Powder Group unique in a sea of other artist resources and communities?
I think "unique" is a very special word and that we really work hard to focus on being different from everything else around us. As the creator of The Makeup Show and On Makeup Magazine we are fortunate to connect in a very unique way to the industry, the best and most pro-focused brands, and the pro makeup artists that are the most sought after and revered in our business. Our audience, and our TPG Pro members gain that access through The Powder Group. I feel big part of what makes us different is our history. TPG has been around since 2003, well before social media and the influx of so many communities and educators in the business.
What makes the education and other programs at The Powder Group stand out in comparison to those offered by other artists and businesses?
While there are many others offering education in our industry today – many more than when I launched The Powder Group in 2003 – The Powder Group is unique on a number of levels. Aside from our history and our relationships which I mentioned previously, our presenters are real, working artists and experts from specific areas of the industry, not simply people who do makeup and then teach others how to do it. Also the integrity with which we choose our educators, their energy and attitude about sharing and being open and giving, and and the way we treat both our presenters and attendees of our programs as equal and important to our industry.
How does The Powder Group choose the presenters who are a part of these programs?
I'm very fortunate that the most inspirational and talented pros in our business are interested in working with The Powder Group. This is something I don't take for granted. I appreciate their commitment to the pro community at large and especially to our TPG Pro community.
What makes the TPG Pro makeup artist community so exceptional?
One of the things I always say about our TPG Pro members is that our members are void of much of the competitive nature of the industry. They want each others success as much as their own. And they are truly the most committed, focused and driven pros in the industry when it comes to their career, artistry and development.
It's amazing to watch as our artists support each other emotionally, and through providing and referring work to each other. When you are a TPG Pro member – you know that other TPG Pro members take their career and artistry seriously and you can count on them to do a great job.
TPG partners with so many great brands to bring one of a kind events and education to our members and community. Why are such partnerships beneficial and important for TPG Pro members?
It makes me very proud to have such important brands in our industry come to partner with us, sponsor our programs and support out TPG Pro community. I believe sincerely that they understand the same things about our members and community that I mentioned previously – that these artists take their business and craft seriously and that they are valuable resources to connect to. It gives me great joy to see the connection that our members make with the brands that we work with and that support both The Powder Group and On Makeup Magazine. We have been so fortunate that aside from our many wonderful advertisers in On Makeup Magazine, and our Industry Partners in our TPG Pro program, companies including Skindinavia, Temptu, Bdellium Tools, The Makeup Light, MAKE UP FOR EVER, Kryolan, Crown Brush, Cosmix School of Makeup Artistry, MAKE UP FOR EVER Academy, Ruby Room, Make Up First School of Makeup Artistry, Cinema Secrets, Nigel Beauty Emporium and Provincetown Art Association and Museum have all supported our programs and events with sponsorships and partnerships. I'm looking forward to sharing new partnerships for 2017 with our audience soon.
The Powder Group had so many exceptional programs, and artist workshops in 2016. What can we look forward to from TPG in 2017?
This is a big year for The Powder Group as we are launching a number of new programs including a tour of our program Celebrate Skin and a new business program BE2, which is a one-day follow up program for attendees of our Business Evolution Program. We also have a number of brand sponsored events and programs which will be more free education to our members around the country. And of course, this is a year when we will be returning The Artist Summit 2017 – one of our most impactful programs and one that truly defines us as a company on so many levels.
What makes The Artist Summit so special?
It is truly a gathering of the most inspirational and important voices in our industry as presenters and brings together 200 of our most focused pros – all of whom are ready for what comes next. As a whole the group is open, connected and focused on a level like no other. It's impossible not to be moved by the energy in the room. It's powerful.
You are a mentor to so many, what keeps you wanting to educate and inspire other artists?
This is a very tough career and is only going to get harder to be successful at as more artists enter the industry. For me the thing that keeps me going is the effect that our programs have on both our TPG Pro members, our event attendees and the companies that partner with us. There is nothing that makes me prouder than a note from an artist saying that something we did at The Powder Group, or something I said in a program I was teaching, has helped them move forward in their career, stay motivated or become re-inspired.
Photos: Katie Ambrose