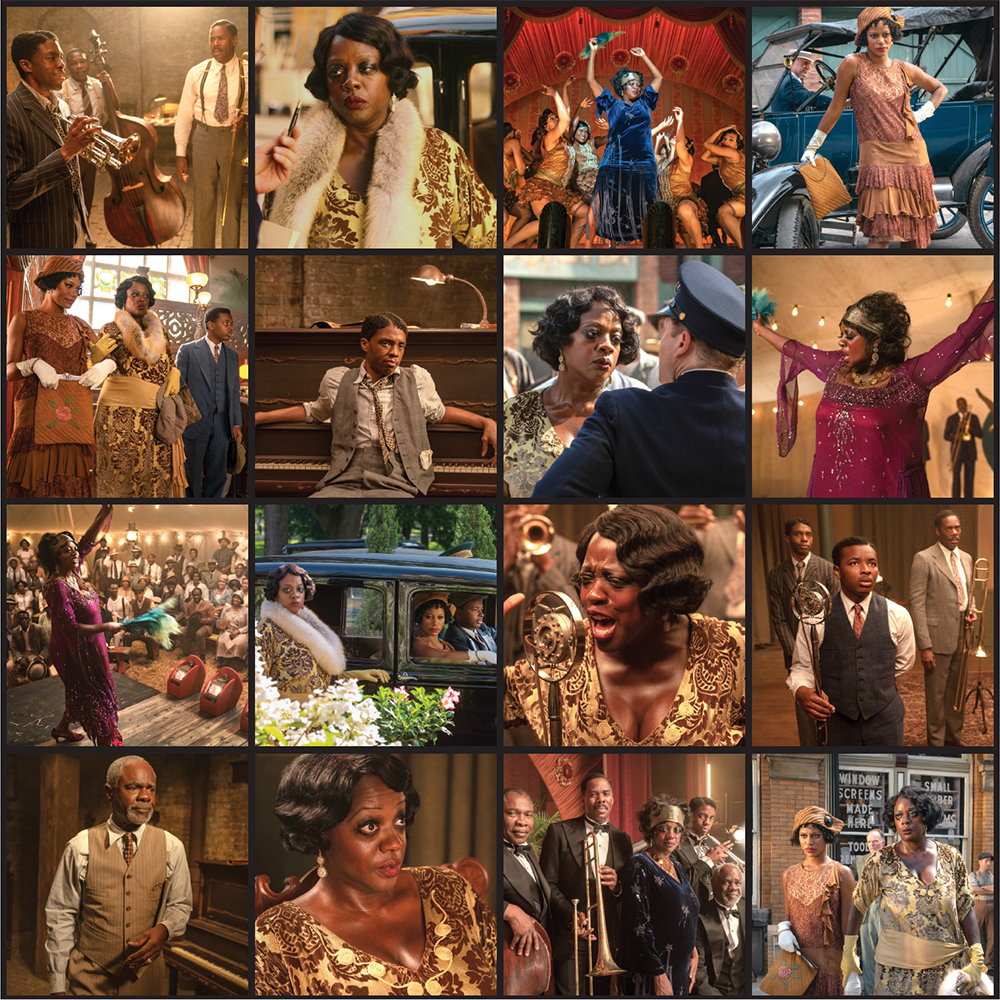 http://michaelosullivan.com/2011/03 How did each of you come to work on this project?
buy ivermectin europe Matiki: I worked on Fences with Denzel Washington and Viola. At the end of that production, Denzel told us he had the whole catalog of August Wilson's material, and at that time he told us we'd be doing one project a year. So, I came to the project through the producers Denzel and Todd Black.
Sergio: I was working with Viola on How to Get Away with Murder for six seasons. She told me this project was coming, but by the time I got a phone call from producer Dany Wolf I had already said yes to going over to London to supervise Bridgerton. Long story short, Bridgerton didn't need me anymore so I called Dany and told him I was still available. I got lucky.
Mia: I've worked with the costume designer, Ann Roth, several times and I've worked with director George C Wolfe. Ann introduced me to George, so between the two of them, they put my name in the hat. I also got a call from Dany.
How did you approach the makeup and hair design for this film set in the 1920s?
Matiki: Researching Ma Rainey was problematic. There was so little information about her, and what was available was far from flattering, such as she sweated profusely. Apparently, they called her "the ugliest woman in show business". In terms of research, Ann Roth was so instrumental in steering into what George's vision was for this production. And really the importance of securing the 1920s authentically without over-glamorizing with everyone wearing an arched brow and a red lip.
Sergio: I had to do the same except in my case I was hired as Viola's personal. Lucky for me, I only had one person to worry about, but that person was pretty important. At the end of the day, it was the Ma Rainey by August Wilson that I was going to have to design for. I took a few things from the real Ma Rainey that I knew from my research, but ultimately, I relied heavily on movies and books from the 1920s. I've always loved that period so I'm very familiar with it. However, I've never had to do research on what things were available for a woman of color in that period. That I had no idea about. I was able to take the aesthetic from the 1920s and kind of translate it into this almost home-made looking makeup for this particular performer.
Mia: I always do my own research but I also collaborate with the costume designer. In this particular case, we only had about two and a half weeks before we started shooting, so a lot of my time went into building wigs and showing up prepared. I have a lot of research from previous 1920s shows — I use a lot of James Van Der Zee photos of Harlem Renaissance. His photos of African Americans are priceless because of the closeups that really show the detail on hair. As far as the details of Ma Rainey, I relied heavily on Ann Roth and the research that she provided me with.
The makeup of the 1920s is so distinct. How did you stay authentic to the period in using what was accessible to a woman of color in the 1920s? 
Matiki: Black women in the '20s improvised. They would use corn starch with cocoa powder which made it very ashy looking. It was very important for the character Dussie Mae, who is played by Taylour Paige, not to look perfect because she wouldn't have had the perfect complexion and products to use in those days.
Sergio: What was designed for women of color were brightening creams and chalky powders, to my knowledge. The fact that you could make a lipstick work for your cheeks, that was beside the point. For Viola as Ma, it's an improvised makeup. She does this as a matter of routine. We're all creating a design that makes sense on the screen and comes from what women for a long time have had to do to create those products they didn't have access to. I remembered a story my grandmother had told me, while doing this, that during the Spanish civil war in the 1930s, women would burn the end of a cork for wine and rub it with petroleum to create this greasy black crème. I mimicked that look for Viola using Danessa Myricks ColorFix creams. She has a black one and one that's just a glaze. I was trying to replicate what would have been available and what it would have looked like if she did the makeup herself.
What about transforming the eyebrows to fit the period? 
Sergio: The aesthetic of the 1920s regardless of who you were was small lips, big eyes. There were no qualms about drawing the lips inside your own lips. It's almost doll-like, with the wistful eyebrows that were very long, stretched down the temples. A contemporary eyebrow is always going to give it away. You can do beautiful work with wigs and costumes and makeup. But if you don't frame the face in the way it was done in the period, you miss that look.
Matiki: The brow said everything. So often the women just shaved off their brow completely and made a line that made them look a little bit surprised. It was higher than their brow bone.
Sergio: That's exactly what I did with Viola. I made it look as if she shaved her brows and made it look painted, unapologetically. That's the thing about this character, she is unapologetic about everything. If she wants something, she's in a position to get it because she is financially more stable than most black women at that time. If she couldn't do it, she'd purchase it. Mia always talks about how the non-show wig was something she saw in European magazines and just needed to have it. She was able to do it because she was an independent woman of color in the 1920s!
Speaking of wigs, Mia, I heard you turned a bundle of horse hair into Ma Rainey's show wig. Can you tell me about your design process for the wigs?
Mia: She wears two different wigs in the film. One is her show wig, then there's her everyday wig she wears in the studio. During Ann's research, she discovered that Ma Rainey wore wigs made of horse hair. Since there aren't that many facts you can find about her appearance, whatever we found we needed to stick to. I sourced the horse hair, and of course it arrived manure-covered with lice-eggs. It was really baked on and hard to get off, but nothing active. The hairs were so thick and so wiry, I had to build the whole thing strand by strand. I couldn't get the hair to fit through the tiny lace we build wigs on. So that wig is 100% single strand wig from nape to front. Ironically, I figured out why that horse hair wig was a popular thing. After boiling it, it had softened the hairs. And once the wig was set, it held that set. So that horse hair actually acted as today's synthetic wigs where you buy it in that style, and it stays in that style for the life of the wig. I assume that Ma used horse hair wigs for the convenience of being able to travel and have her show wig maintain itself. Because as a woman of color, she couldn't just walk into any salon in any town she was performing in. So, she had to have her show wig, ready to go.
I decided to build her "self" wig in European hair. This is where you have to create a story where you can't find a story. In filling in those holes, we knew Ma Rainey must be first generation free in America for her family. I knew she was from Georgia. She had a different name and changed it to Ma Rainey which told me she was defining who she was. She had a husband, but she also had a girlfriend. She had the gold teeth and wore a lot of jewelry. For me, I felt like this was a woman who sees something she wants and finds a way to get it. She had clothes on that I'm sure came from stores that wouldn't let her enter the door. She saw this hair in a magazine and thought I want that hair. Her own kinky hair won't wave like that, but she'll have the same hair she sees the girls have in the magazines. That's why I built that one on European hair, gave it those very set finger waves that were very popular in that time. It all played into the psychology of Ma Rainey, her having everything she wants in this life in an abundance; everything she's been denied and now having access to it. Wearing a fur coat in the dead of the summer. Who does that? Ma Rainey does that.
Tell us about Ma Rainey's gold teeth?
Sergio: Through the incredible research Ann Roth did, she found out this woman had a lot of gold teeth. Back then, you had to have money for gold teeth, and were wearing them proudly. I spoke to Vincent Van Dyke who does everything prosthetic for me here in LA and he made those teeth. One of the hardest things to do is erase someone's iconic smile. Viola Davis is very well-known for her smile. I would say the two things that helped erase Viola the most is the gold teeth and erasing her own eyebrows.
What are some of the challenges you faced with creating sweat for the characters?
Sergio: Fake sweat is nothing new for us in the makeup world. Ma was described as sweating profusely especially through performances. That was a great element for me to play with. Properly applied sweat can elevate a moment; it speaks to discomfort, struggle, stress, nervousness. With Viola, given the fact that I was doing this sort of vaudeville-finger-painted-makeup on her, and the fact that it was July and so hot, the sweat is one of the most important elements in my makeup. It tells you so much with so little. The challenge became in keeping that continuity take after take, scene after scene. And especially for Matiki, as she had to do it with so many characters, you have to go with the flow of what is happening in the story. We were all there every single take adjusting beads of sweat. We used all different formulas, some thinner, some thicker so beads would stay and beads would run.
I would imagine with so many background, you have to be diligent about everything from hair to ear piercings. What was key in keeping with the authenticity to 1920s? 
Matiki: We had to get rid of microblading, fake nails, multiple piercings. Even for guys, the smallest details can take you out of the movie. And we had to keep that movie rolling without someone's arm passing by with a tattoo on it or a wrong nail or eyebrow. Every single detail had to be maintained so you don't take somebody's focus off 1927.
Mia: One of my guys, Tywan Williams, was at every costume fittings because the men all needed to get haircuts. He had to fit hats and hide dreadlocks. He single-handedly did over 400 haircuts. Let me tell you, everyone who worked on this film, worked their butt off. For it to be a movie that predominately takes place in one room, there was still so much going on. Matiki always says, "When you're doing a period piece, everyone in it is a principal character because you have to go through every single person with a fine-toothed comb and give them the treatment you would give one of your main people."
Sergio: You have to erase any evidence that these people are not from 1927. Like Matiki said, there are neck tattoos, face tattoos, piercings. Even the way the back of somebody's hair is cut. If you're going to be in a frame of this movie, you're going to go through the makeup and hair design. Ann Roth is going to be the first one designing an entire story behind each one of these background people. The fact that we all just dove into the authenticity, was so important. Our leader in that was Ann Roth without a doubt.
Key products you couldn't have worked on this project without?
Matiki: It was the sweat for me. For the application of the sweat and different degrees of sweat, I used Vitapointe, an old hairdressing crème that once applied to skin will bead up. Some performers were sweating more than others at different times, such as when Sylvester, played by Dusan Brown, takes the mic, he's nervous so he sweats more. Her manager and the record producer are always nervous that Ma is going to leave so they're sweating at times. The band sweating in their argument's downstairs, get very heated, so they're sweating. I couldn't have done the film without Vitapointe.
Sergio: The eye makeup was so important, not only for the performer, but in general the eyes in the '20s were such a focal point. It's one thing to look at that makeup and think the makeup is dripping or moving, and it's another thing for it to actually do that. I couldn't afford to have that black makeup actually drip, but I had to make it look like it was dripping. In that regard, the Make Up For Ever black crème in a little squeeze tube was awesome. I used that in combination with Danessa Myricks creams. I couldn't have done this job without that and the sweat.
Mia: For me it was more of a person I couldn't have done this without, and that was Leah Loukas who was my key. This was Leah's first film, she usually does theater. She is also a wig designer. With only two weeks to prep, I needed someone who could turn around wigs very quickly. We had to show up prepared to possibly wig every woman in this show as far as background goes. So, we ended up building 100 wigs; we came overly prepared. She had a stock of wigs, I had a stock of wigs. We didn't have a bunch of kinky hair so we permed things on little red stirring straws so we could make kinky 'fros that we could fold into shapes of that time period. She was amazing. I don't know anybody else that would have agreed to do that. We worked off the clock. Her dedication toward the film, what she did and how she helped – for me, my product/person is her.
Is there anything you'd like to add about your experience on Ma Rainey?
Matiki: You don't get this level of excellence by yourself. The additional crew, Debi Young [background makeup supervisor], Carl Fullerton [key makeup] were just tremendous. They did an amazing amount of work and really deserve a shout out. They were a phenomenal team.
Sergio: We are nothing as artists without a good cinematographer and Tobias Schliessler just lit this work in the most breathtaking way. He wasn't erasing our work with his lighting, his lighting just elevated our work.
Mia: I think George C. Wolfe is a genius. He is involved in every single aspect of production. He doesn't create a hierarchy system. When you work on something with George, you feel 100% part of the team. He creates more of a family environment. He has excellent notes. I enjoy working with him.
Sergio: One thing I love about George is when he gives you a note, I'm not aware I'm receiving a note. His response is a story. He's a storyteller, he calls us all storytellers. So he tells us stories, and we design.
Written: Shannon Levy
Photos Courtesy of: Netflix